There are two professions that regularly seek a first mover advantage in emerging markets and can be used as a signal that something is growing into an opportunity to make money…..
The first is Lawyers. They get early exposure to emerging technologies as they help with patent protection and registration, company funding and formations, act as advisors on contractual agreements, etc.   They're therefore well positioned to see what's coming and form strategies to then turn these emerging ideas and markets into revenue streams.  When you see lawyers showing an interest in something, it's likely they've figured out that there's potential to make lots of money.
The second "profession" to watch is criminals as they're also very good at turning technology innovations into revenue streams. The growth in Cyber-Risk insurance is testament to the realization that criminals are increasingly using cyber techniques to commit theft, fraud and embezzle money from individuals and companies.  The theft of an estimated $450 Million worth of Bitcoin from Mt Gox (a major Bitcoin exchange) is well known and frequently cited as to why Bitcoin can't be trusted.
There's a lot of developments going on in blockchain / distributed ledger currently and I attend an ever increasing number of events on the topic in order to keep up to speed. There's more and more developer drop-ins, hackathons, breakfast briefings, presentations, invite-only roundtables and forums and it would be pretty easy to become an event junkie and live on the free breakfasts, beer, wine, canapes and pizza.  There's also growth in the paid arena too, with organisations selling tickets for conferences and companies providing training courses in the various technologies.
I keep an eye out for events held in London and regularly scan the likes of Linkedin, Twitter, Eventbrite and Meetup. A posting on LinkedIn caught my eye: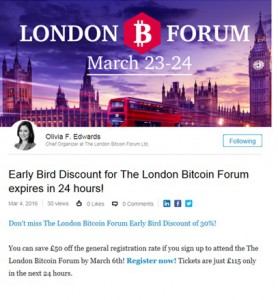 I took a look at the event website and it looked like a really packed agenda, with some well known technology names presenting and sponsorship from several large financial institutions, consultancies and vendors. To quote the site ""more than 60 expert speakers and 20+ media partners for a prestigious two-day event featuring powerful keynote talks, plenty of networking opportunities, demos and panels""
£115 for a full two-day conference, dedicated to Bitcoin and Blockchain, with great speakers? Seemed almost too good to be true!  I must book, beat the rush and get the £50 earlybird discount!
Go for it!…..
Hang on, I'm a naturally suspicious individual (motto: "I may be a cynic but that doesn't mean I'm wrong") and thought I'd check a little further.  Just to be sure!  So, I checked out the website again.  Seemed pretty legit (apart from not having the legal stuff like company registration number, registered address, etc but then there's still many sites that are built in haste without the web developer actually knowing the legal obligations).  The event appeared on the condesk.com site (a well respected site), was published on meetup.com (a great site for building communities, holding meetings, etc) and Eventbrite.com (a well known event booking ecosystem.  Then there was a twitter feed promoting it too and the organiser's LinkedIn profile seemed pretty authentic.
But….something still didn't stack up!
For a major conference to only begin to promote itself just a month before the event didn't seem right. Whilst the site mentioned company presentations it didn't name the actual speakers.  Oh, and it was being held the same day as the London Bitcoin and Blockchain Leadership Forum.  Seemed odd to have two major events on the same day?
And then….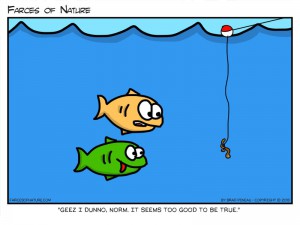 Like a fish nibbling on a worm, wondering why there was a worm, mounted on a sharp pointy object, in the middle of a river, I clicked on the "Buy Now" button…..and it returned an error:
"Bad Pay Button Link – Sorry. The 'pay button link' used to come here is invalid or damaged – Unknown or invalid reference"
So, like a hungry fish, I emailed the organiser, explained the error and received a helpful response:
"There seems to be a problem with Coinkite. I can confirm your ticket manually. Please send 0.55BTC to the following address: 15fvN3fGEt7atekErmQUYs8ZrhFj1bZ243 and tell me your full name and if you require a parking pass. Kind regards, Olivia Edwards Chief Organizer – The London Bitcoin Forum contact@londonbitcoinforum.co.uk https://londonbitcoinforum.co.uk"
Now there's a problem….if I pay via my Bitcoin wallet how do I obtain a VAT receipt and claim the expense back ? How would this work?  So I emailed the organiser….no response.
Time for my suspicions to be fed a bit more!….So, I checked out "The London Bitcoin Forum Limited" on the Companies House Webcheck service and….it doesn't exist!: Not a good start.  Being a techie at heart I checked who owned the website domain.  A quick check with Nominet revealed that it was registered to the named organiser but to an address in Berlin.  That's odd!
So, sent another email to the organiser…this time it bounced back with "Recipient not found" …..that's not good!
Rechecked the website…
And then I did what a four year old would do… "ask google about it!"
Turns out my suspicions were right. It's a scam.  It was a pretty convincing one.  Apparently several of the sponsors really had paid to sponsor the event, people were genuinely booked to speak and quite a few people had paid for tickets.
#DYOR?
The moral of the tale is Do Your Own Research.  The old adage applies even to new innovations…If it looks too good to be true, it probably is.  There will be many more paid events, training classes, conferences and presentations popping up as more people gain interest in the blockchain / distributed ledger space.  Most of them will be legitimate, a few will be poor value and some will be fake.
There's been a growth recently in presentation hosted by Financial Advisors ("How to make money from the Blockchain goldrush") and Lawyers ("How we can help protect our clients whilst making us lots of money") and criminals ("Book early!…"). This is a good proxy for how the distributed ledger / blockchain momentum is growing.  If you want reliable advice about which events to attend, just send 1 BTC to my anonymous bitcoin wallet and I promise I'll respond immediately ;-}